*Continued from incapacitating the vulnerable – Vaughans ongoing plot*
*Note* for reference to the castle architecture style, see the Kostnice Ossuary*
The veil between earth and Mayhem rippled open as Vaughan fell through, wings crashing flat against the floor as his body followed, blood slithering over his form from the bullet wounds on his arms and hip. A sharp snarl let his mouth as the veil closed and cut Vauhan off from the hospital biohazard, effectively leaving Romal behind for Ox Corp to collect. That would be it for Romal and Vaughan had arrived at the day he believed his brother to have been killed.
He rolled onto his side to draw a sharp inhale, digging his claws deep into the rocky ground as he felt the pinch of pain in his stomach. There was no worry that the wounds would kill him, he would clean himself up in time and force the bullets from his impact wounds. His thirst had returned his apetite for flesh these days much more than it would have been before living in mayhem. Pushing up from the rock, Vaughan stood and brushed the volcanic ash from his blood sodden shirt as he eyed the front of his home. The walls were constructed with skeletal bones, row upon row of femurs to construct the walls and skulls worked into the columns in such architectural detail it stood as a most impressive structure.
At the base of the castle stood several lower demons, small and ugly creatures of minimal intellect who simply served as foot soldiers to demons above them. Vaughan had ordered them to stay put no matter the situation, the consequence for not doing so immediate elimination. He moved with shoulders hunched over as he stomached the pain of his wounds, stammering into the castle as he pulled the shirt from his torso, tossing it nonchalantly on the floor as he walked across the floor. His home was not vacant, in fact it was full of people, tortured souls who he had brought to Mayhem over time, some loud and shrieking whilst others cowered in the corners of the rooms. Their chains rattled and clink as Vaughan snarled.
"QUIET! All of you." He strode across the ground level of the castle, grabbing the chain of a young male with him as he moved. He would eat and with the energy gained from devouring the male, Vaughan would heal.
Not sure what Xaphan's side looked like but Plagues was all very painfully bright colours and sudden changed in light plunging into dark so before the eye could adjust it would get bright again. Everything in the light would be very detailed and of grotesque nature. The floor would be made of thorns that pierce any material other then the feet of the higher demons. It would have tortures specifically aimed at long term torture and aimed at already sadistic monsters. But was also have areas of blackness like black holes for those souls that hated solitude and sensory deprivation. Most of it would be tailor made for specific spirits
_________________________________________________
~`A LION NEVER LOOSES SLEEP OVER THE OPINIONS OF SHEEP`~

Vaughan Dimitru




Posts

: 50


Points

: 70


Join date

: 2014-07-06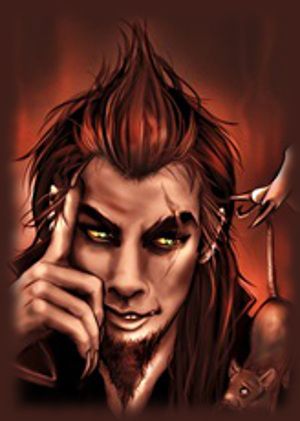 Today was soul collecting day for those who were allowed to have more of a free reign within Mayhem. Xaphan strode from home to home collecting what was his and leaving only what he saw fit. ''50 souls?'' He asked quietly to a cowering higher demon. ''I collected 300 souls from scum and you, you who have been given more than you deserve gives me a measly 50!'' He exclaimed, grabbing the higher demon by the throat and pulling him towards him. ''Well, I will just have to take all of your consumed souls then.'' He said with a tut and a shrug of his shoulder. Xaphan brushed down the demons collar as he released his neck. ''You, this land now belongs to you. Happy promotion.'' He said pulling up a random demon who had been watching. Ignoring the pleas from the demoted higher demon, Xaphan continued on his walk, a vine of fire shooting out from his spine and wrapping around the demon, pulling him along with Xaphan whilst the fire forced it's way inside of it's victim, sucking the souls out from within.

 By the time that Xaphan had reached Vaughan's residence, he had three higher demons in the exact same position being tugged behind him at the mercy of his flames. Failure was not an option when it came to Xaphan, if he wanted something, he got it. Vaughan, now Vaughan and Xaphan did not always see eye to eye, but even with Plague's demise, Xaphan let him live, the two had a deal, and Xaphan would not dishonour that, for now anyway. ''Yoo hooo.'' Xaphan called as he stepped into Vaughan's home, he glanced around, approving of the décor, the three demons being forced to follow. ''Come out, come out wherever you are Vaughny poos. It's collection time.'' Now, he his brother had had high hopes for this one, Xaphan was looking forward to a good soul haul.

 

Requiem




Posts

: 1509


Points

: 1730


Join date

: 2013-11-14


Age

: 27



His leg hung over the arm of a lounge chair, his wings relaxed and drapped out sideways as Vaughan grasped the deceased male across his lap, a deep hole in the corpse's torso where he had shoved his talons, tearing away at the fat and muscle before breaking the rib cage. His arms and face were coated in the blood of the male, Vaughan chewing on a chunk of heart as he felt his own body begin the long process of regeneration. As minutes passed the bullets moved towards the epidermal layer, soon excreting from their impact sites and dropping, the occasional fragment clinking as it bounced across the dark marble floor.

The silver that had worked its way into Vaughan's system had irritated him physically, a sheen of sweat across his skin as his body fought the invasion. It felt like fire to have silver in the bloodstream, far less than other substances but still irritating enough. It spurred his hunger and as such Vaughan had tuckered into the meal with delight. That time of course interrupted by the arrival of Xaphan, the distinct smell of burning flesh and a heat that radiated out from the fire demon catching Vaughan's attention before he had heard the voice. The nickname had made him laugh, though there was an inner desire to rip Xaphan's throat from his neck for what Vaughan would see as an infraction against him. Still time had passed and since the death of Plague, Xaphan had kept Mayhem standing, operating well considering he was insane.

Dropping the corpse and lowering his leg from where he had it slung over the chair arm, Vaughan's hands curled over the ends of the chair arm and pushed into the solid object, propelling him from up to stand as he kicked the corpse aside. Stepping over the remains he strode across the living area, appearing through the doorway into the entrance where he spotted Xaphan and the demons pulled along behind him. He could not resist the smirk that rose as he watched Xaphan tug them along so helplessly under his grasp, they had obviously failed in producing effective results. It wasn't uncommon to see however Vaughan was comfortable enough in knowing he did a better job then most when it came to harvesting souls.
"Crappy results thus far i see" Vaughan commented as he sucked a thick stringy piece of flesh which had been stuck to his fingers from the coagulated blood, always one to revel in the messy meals. Though Xaphan had expectations, Vaughan had lost the feeling of fear among his other emotions, instead replaced with an unperturbed type of demeanor.

curling his finger in a beckoning gesture he walked past Xaphan and the demons in toe, walking across the lobby to a small door. The surface of the door was marked with runes, specific to protect whatever was inside and also prevent it's release until he opened the door. unsealing the doorway he motioned for Xaphan to draw near so that he would be able to collect the souls and prevent any escapes.
"The last count was towards two thousand, that was last week" Vaughan told him as he gave his hand a flick, using his telekinesis to draw the door open for Xaphan as he stood clear.
"noisy bastards lately" he added in a mood.

_________________________________________________
~`A LION NEVER LOOSES SLEEP OVER THE OPINIONS OF SHEEP`~

Vaughan Dimitru




Posts

: 50


Points

: 70


Join date

: 2014-07-06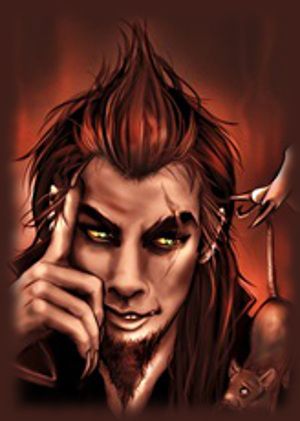 Xaphan heard the stirrings of Vaughan as he came to greet him, he looked at the male covered in blood and let out a small giddy laugh, ''I'm glad to see you are enjoying your time.'' He said, smile vanishing as Vaughan smirked at the three demons attached to him. He tilted his head to an awkward position as he felt the little demon may need to be brought down a peg or two, the demons currently trailing being Xaphan were far higher in status than Vaughan was, but no matter, his fate depended on the results in which he gave to Xaphan. ''Indeed, but they have been sneaky.'' He said twisting his body and raising a finger to one of the demons, his blood coloured long nail scraping across one of their faces, ''This one. He has been taking many many souls for himself instead of delivering them to me.'' He tut a few times as the last of the souls within the demon were sucked into his own body. ''Naughty, naughty little boy.'' He smiled what looked like an innocent smile before it disappeared replaced with a rare glare, ''Naughty deeds do not go unpunished now though do they?'' Xaphan plunged a hand through the demon's chest ripping out the demonic soul inside. The warped soul struggled in his grasp as it was ripped from the body, igniting in flame before evaporating into the air.

 Xaphan dusted off his hands, rubbing them on the shoulders of one of the other demons before returning his attention back to Vaughan. He followed to the little den of surprise, saying nothing to the number he had collected. He stood by the door, watching it open and let out a loud maddened laugh as he watched the souls swishing around within. Xaphan's mouth opened in a grotesque snake like way, sucking all of the souls up in a loud rush of sound as every last one entered his body.  Xaphan's mouth returned to normal and he did a small hop and a clap, before turning to Vaughan and grabbing him by the shoulder, ''Well done Mr Dimitru. Now they are results that I like.'' He said giving his shoulder a squeeze before releasing it. ''I expect more next time, however.'' He said in a darker tone.

 ''You, ha ha!'' He grabbed up one of the two remaining higher demons, stepping over the corpse of the other as he did, ''Did you ever provide me with such results in the time frame that vaughny poos has?'' He laughed, banging his forehead a few times on the demon's head, ''Woooo!'' He said shaking his head violently. ''Here, a reward for you Vaughnster.'' He said releasing his fires from the demon and throwing him towards Vaughan, ''Keep him as your pet, kill him, do what you like with him, he is yours now.'' He said gleefully, as the much higher ranked demon than Vaughan was now his to do as he pleased. ''Talk about an injury to your pride.'' He said, to him this was letting the demon off lightly but rewards were given where they were due and today Vaughan deserved the reward. The demon now at his mercy probably treated Vaughan like shit before he imagined Vaughan would have a lot of fun with him.

 The one remaining demon looked like he wanted to die there and then, but Xaphan was not merciful and he restricted his flames around him all the more.

 

Requiem




Posts

: 1509


Points

: 1730


Join date

: 2013-11-14


Age

: 27



Xaphan never seemed to have a similarity to Plague, perhaps the only close resemblance being the violent and horrendous ways in which he cared not for a thing and took life with such ease. Plague had been the more stable of the two, however until he was dead and Xaphan was the man to deal with Vaughan had never noticed how level headed the aforementioned brother was. As insane as Xaphan was even Vaughan was becoming used to the way the demon worked, assisted in part by his own work to remove emotion from his being.

"Nothing like a beating heart in your hands after a shitty day at work" Vaughan muttered nonchalantly as he walked across the floor. His plan at the hospital in Arcane had been foiled but the fact that casualties were still taken was still a win in his book. It was a pity Romal had to have gotten in the way yet again.

It didn't surprise Vaughan to hear Xaphan tell him the demons in his grasp had been sneaky, demons weren't known for loyalty. Against their better judgements the one's encased in Xaphan's snare had gone on their own instincts, lavishing in selfishness and claim to all which didn't belong to them. He had indulged in the same way once or twice but Vaughan knew who to and who not to screw over. He had not bothered to watch Xaphan punish the demon, it was not an uncommon sight though it did question whether killing demons in mayhem so much was a wise idea. After all an army was an army until you killed them or they rose up against their leader.

The chilling laugh was a good sign that Xaphan was pleased to gain Vaughan's quota of souls and Vaughan watched the demon's jaw drop so out of shape it was almost hard to watch. The souls were sucked into his mouth in such a way they seemed to cry in agony, Xaphan continuing to celebrate with the signature hop and clap. Vaughan cringed as Xaphan grabbed his shoulder, the rawness of the bullet wound under Xaphan's fingers pulling as Vaughan suppressed the urge to wrench the demons hands off him. Thankful when Xaphan released his shoulder Vaughan could then appreciate the praise and warning the demon issued him as Vaughan simply returned with a nod for the moment.

Xaphan moved away from Vaughan which gave him a moments reprieve to stretch out his arm and rotate it, stretching the muscles in his shoulder to sooth some of the pain. He watched as Xaphan seized the demon in his grasp, lecturing him on taking souls before he spoke to Vaughan of a reward and tossed him the demon. His hands shot outward to catch the demon, pushing him to the ground with a sense of pride. It was always a good thing when a higher demon was at his feet. He would have rather killed himself then be stuck in the same position as the demon before him now but he worked far too hard to get stuck there.

"And a good reward this is" Vaughan agreed with Xaphan as he kicked the demon on the ground and stepped passed. "If it is more souls you want I have a proposition for you. Actually it is more of a solution to a problem that is present on the earth plane. Tell me Xaphan how long has it been since you've set foot there?" Vaughan inquired.

_________________________________________________
~`A LION NEVER LOOSES SLEEP OVER THE OPINIONS OF SHEEP`~

Vaughan Dimitru




Posts

: 50


Points

: 70


Join date

: 2014-07-06




Similar topics
---
Permissions in this forum:
You
cannot
reply to topics in this forum